Within the framework of the partnership between Service Yezu Mwiza and Action Damien Burundi, in the fight against leprosy and tuberculosis in Burundi, the Executive Director of SYM, Father Védaste NKESHIMANA, sj, received on May 11, 2022, a visit from the delegation of the organization Action Damien, led by Dr. Michel SAWADOGO, Legal Representative of Action Damien in Burundi. The delegation was composed of two consultants from Belgium who came to the headquarters of Action Damien, namely Dr. Martine Toussaint who is in charge of the leprosy component, Dr. Arnaud Trébucq who is in charge of the tuberculosis component, and Dr. François CIZA, TB-MR Focal Point & Monitoring & Evaluation at Action Damien Burundi.
Dr. Michel SAWADOGO, said that the visit is part of the final evaluation of the five-year plan of the leprosy and tuberculosis project, implemented in Burundi by Action Damien Burundi, in collaboration with the National Integrated Leprosy and Tuberculosis Program (PNILT), for a period from 2017 to 2021.
The Executive Director of Service Yezu Mwiza, welcomes this fruitful exchange with the delegation, as well as the good collaboration, already existing between Service Yezu Mwiza and Action Damien Burundi, in the implementation of this noble task, to restore dignity to those infected and affected by leprosy and tuberculosis through socio-economic reintegration.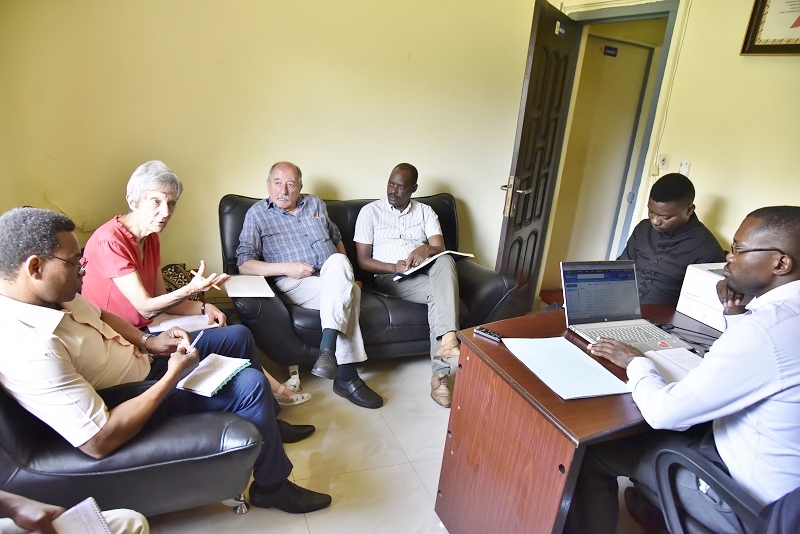 The delegation of Action Damien visits Service Yezu Mwiza
"For me, the implementation of this project of socio-economic reintegration of people infected and affected by leprosy and tuberculosis, has allowed these people, who previously suffered discrimination from the neighborhood, to regain a taste for life, to feel useful in the community. The members of the 21 associations already formed throughout the 8 provinces endemic to leprosy and tuberculosis are living proof that our efforts can be rewarded. These same associations help each other by exchanging the products of their IGAs. Here I can cite the case of the Kizuka association, which gave 6 of its goats to the other two associations (Muyama and Mudende1), which proves that they firmly believe that they can lead a normal life like their neighbors. So they put their hands to work", says Alain Christy ININAHAZWE, SJ, SYM's Coordinator of Projects and Programs.
For this year's activities, special emphasis will be placed on the active search for new cases of leprosy patients, during home visits by members of the associations. In addition to the support of the 21 associations, 4 new associations of people affected by leprosy will be created, including two associations (Butezi and Muhafu) in the commune of Giharo in Rutana province, an association of Bukeye in the commune of Kibago in Makamba province and another of Mpanda in Bubanza province.
It should be noted that Service Yezu Mwiza is the implementation partner, in the socio-economic reintegration of people infected and affected by leprosy and TB, in 8 endemic provinces of leprosy and tuberculosis, namely: Bubanza, Cibitoke, Rumonge, Bururi , Makamba Rutana, Ruyigi and Cankuzo.