This Saturday, November 13, 2021, Service Yezu Mwiza organized an awareness workshop for peer educators, members of health clubs in 20 schools of Bujumbura Mairie, on sexual and reproductive health (SRH), prevention against sexual and gender-based violence (SGBV), HIV and drugs.
Peer educators are young people trained to help their peers in their community adopt healthy and responsible adolescent and youth sexual and reproductive health (ASRH) behaviour.
The objective of that workshop is to provide peer educators in these 20 schools with the correct information on ASRH, develop a sense of responsibility, strengthen relationships and increase leadership, commitment and advocacy for youth sexual and reproductive health.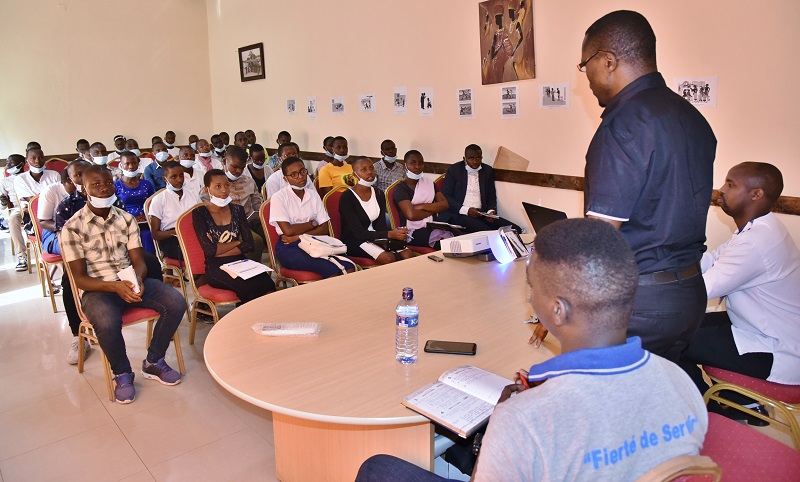 SYM Executive Director, Father Védaste NKESHIMANA, SJ opening the workshop
After welcoming the participants, The Executive Director of SYM, Father Védaste NKESHIMANA SJ said in his opening remarks that Service Yezu Mwiza has the mission to promote the integral health of the population, and young people are part of it: " We therefore thought of making sure that you, the young people, have the correct information necessary to take things into your own hands, so that you know what to do for your own development and your future. We have only invited two representatives from each club out of the 20 schools so that you can go and teach other young people in your schools and also in your community". He concluded his speech by urging them to follow the content of the training but also promised that he would visit them in their respective clubs during the field trips.
According to Mr Egide SINDAYIGAYA, trainer on SRH and SGBV, "in this workshop we helped these peer educators who are members of health clubs to discover the 5 dimensions (physical, intellectual, social, spiritual and emotional) which will enable them to develop into people of integrity and balance. The knowledge acquired will also help them to prevent SGBV, especially in schools".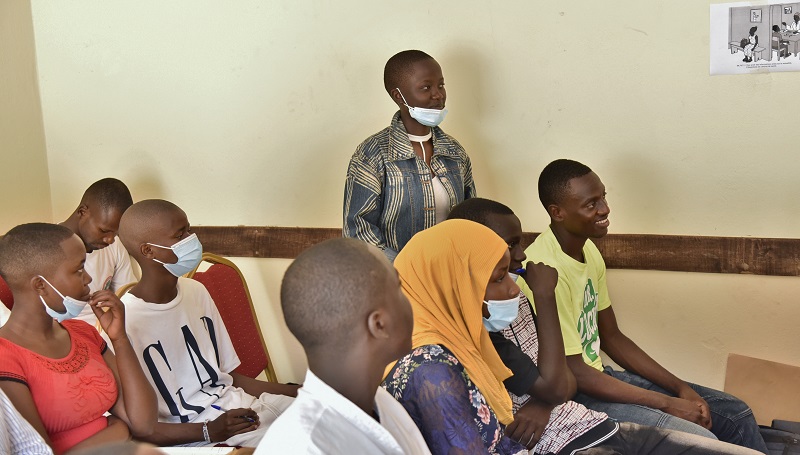 One of the participants speaking during the awareness workshop
The young people expressed their concerns: "Our parents also need to follow these modules because, if there are children who misbehave, it is often due to the lack of dialogue between parents and children. We would like Service Yezu Mwiza to involve parents in this process if possible, so that young people receive the information at school and also at home".
The legal representative of the Burundian Association for a world of peace without drugs (ABMPD), Mr. Valentin HAVYARIMANA in his brief presentation showed the participants the unfortunate consequences, which happen to young people who indulge in drugs as well as the action to be taken to avoid succumbing to these temptations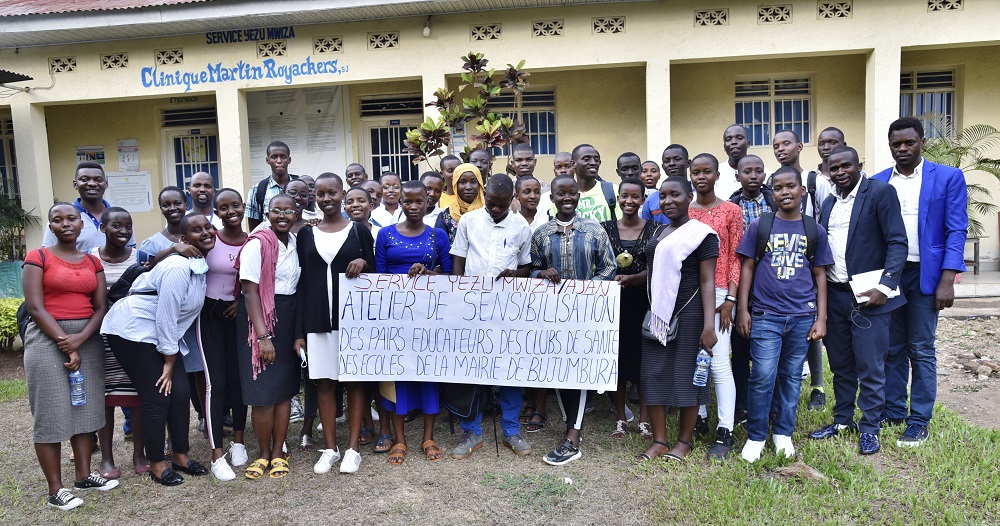 Family photo after the awareness-raising workshop
These representatives of young people, members of the health clubs welcomed this wonderful initiative of Service Yezu Mwiza and promised to do everything possible to create a happy generation: "This training workshop was very useful for me, because i learnt new information about SRH adapted to young people, the fight against SGBV, how to avoid frequenting the group commonly known as " Ligalas", which often lead us to take drugs and other behaviours that can distract us from our bright future. The knowledge I have gained will help me to approach and help other young people i know who are involved in the use of these drugs to get away from them", says Laurie Princia IRADUKUNDA, a representative of Lycée Notre-Dame de Rohero.