As part of the implementation of "AHAPPY GENERATION" a program initiated by AJAN (African Jesuit AIDS Network) with the aim of promoting the integral development of youth; Service Yezu Mwiza organised a capacity building workshop on 6 November 2021 for health club supervisors from 20 schools in Bujumbura Mairie province, on sexual and reproductive health of adolescents and young people (SRH), sexual and gender-based violence (SGBV), HIV and drugs.
Health club supervisors are teachers and play a crucial role in the education of young people in schools. For this reason, capacity building in SRH promotion, SGBV and drug use control is needed so that they can provide young people with correct information.
The coordinator of projects and programs within Service Yezu Mwiza, Alain Christy ININAHAZWE, SJ has in his opening remarks at the workshop, said that training is part of one of the apostolic preferences of the Society of Jesus, namely "to accompany young people in creating a better future". "In this Ignatian year where we are invited to see everything new in Christ, we want you to be better equipped to improve where you think you have difficulties, by sharing experiences in your respective schools, but also to learn about new approaches on SRH, the fight against SGBV and drugs", he added.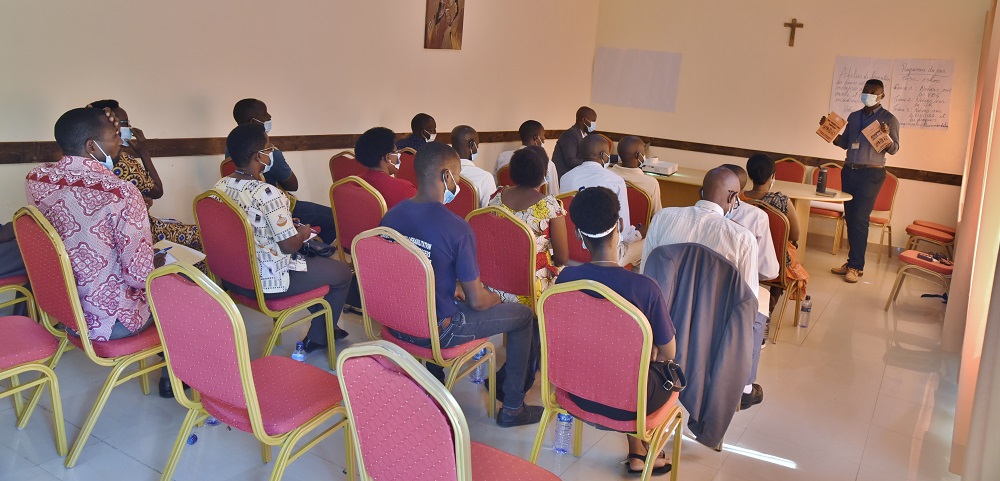 Projects and Programs Coordinator during the training workshop
After the presentations of the different topics by the speakers, the participants had a moment of exchange so that all have a common view on how they will coach young people. They certainly appreciated the content of the training.
Mrs Geneviève NIBIZI, a Supervisor at Lycée du Saint-Esprit, said in her speech that: "This training was very rich and useful in that we learned new approaches to carry out our role as supervisors; it was also an awakening of awareness, duty and responsibility of each parent". She concluded by suggesting that in order to reach the greatest number of young people, inter-club competitions should be organised and the general public should be allowed to attend, so that even those who are not in the clubs can benefit from those informations.
It should be noted that such training for peer educators of health clubs from the 20 schools where the program will be implemented is scheduled for Saturday, November 13, 2021, to strengthen their knowledge in these topics so that they can, help their peers in schools and the community to adopt healthy and responsible behaviour.